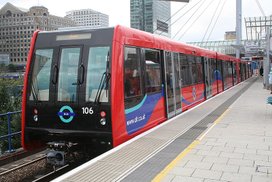 We plan to use a single self-powered carriage. The ideal carriage will seat between 20 and 40 passengers, with room for perhaps another 60 standing and faciolities to transport bicycles conveniently.
(For comparison, the Docklands Light Railway uses cars which each seat 80 and can carry 284 people!)
We plan to use an electric traction, battery powered propulsion system, as several such vehicles are becoming available.
Since the route is mostly level, and only five miles long, the motive power required is smaller than for most railcar applications.
With a simple short return journey, it should be possible to operate with a limited energy store.
An example of a very suitable vehicle currently under development is the Rail Innovation Centre's Very Light Rail vehicle.